error parsing slider shortcode [tab icon="" title=""]
Michael's Cafe
An American Bistro
Our exclusive outlets at Four Points Long Island City, are making a statement. Our restaurants are busy with business people for breakfast, lunch and dinner. Come in to Michael's Café, where you can relax and enjoy your meal on our fabulous patio.
SALADS
GREEK SALAD
15
Vine ripened tomatoes, cucumbers, red onions, olives, peppers, Dodonis feta cheese, oregano, aged balsamic, evoo
Green Caesar Salad
13
mix green salad, classic caesar sauce, herbed croutons
Vista Signature Fig Salad
$14
Mixed field greens with Prosciutto de Parma, grilled manor cheese, fig compote, honey balsamic vinaigrette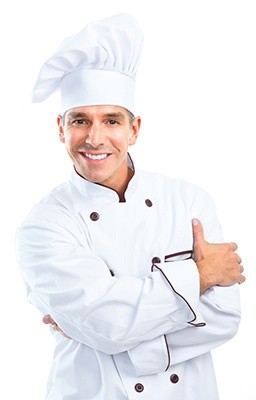 Creating flavor combinations that bring cooks and our restaurant guests pleasure is my job and I love it."
ENTREES
WILD MUSHROOMS TRUFFLE ORZOTTO
21
Sautéed wild mushrooms, confit cherry tomatoes, feta mousse, basil infused extra virgin olive oil
SEAFOOD PASTA
26
Sautéed wild Shrimp, calamari, mussels, herbed tomato & light cream sauce
LOBSTER PASTA
34
Maine Lobster braised in tomatoes, Santorini island white wine broth, herbs & light cream ...
Chicken Parmesan Over Linguine
24
chicken breast simmered in a scrumptious tomato sauce topped with parmesan cheese over a bed of linguine
RIGATONI CARBONARA
24
PARMIGANO-REGGIANO, egg, pancetta, black pepper, evoo ricotta cheese, parsley
WILD SCOTTISH SALMON
26
Marinated grilled vegetables, rice pilaf, evoo
CAST IRON ORGANIC CHICKEN
25
our Cast Iron organic Chicken Recipe is not only perfectly delicious but the perfect ...
AMERICAN BREAKFAST
14
Two eggs any style, bacon or sausage, with home fries and a choice of toast
BREAKFAST SANDWICH
12
Two fried eggs, bacon, american cheese, a choice of sliced bread or brioche roll, served with home fries
STOCK OF PANCAKES
14
Comes with a choice of bacon or sausage with butter and syrup
CLASSIC FRENCH TOAST-with Choice of bacon or sausage
14
Vista Signature Burger
$21
Caramelized onions, muenster cheese, paprika aioli. Comes with a choice of French fries or field green salad
Veggie Burger
$18
A healthy burger made of wild mushroom, beefsteak tomatoes, lettuce, paprika aioli and a choice of French fries or ...
Grilled Chicken Wrap
$19
Grilled chicken breast wrapped with roasted peppers and sweet and spicy aioli. Comes with a choice of green salad ...
Grilled New York Strip Steak
$35
13 Ounce NY Strip Steak, Peppercorn Brandy cream sauce, served with Parmesan Truffle Fries OR Side of Mixed Green ...
Chicken Kebab
$22
Marinated chicken cubes skewered with Sautéed peppers & onions Served with french fries OR Mixed green salad